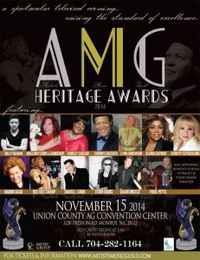 Steel City Sound just completed performances for the 2014 Artists Music Guild and Heritage Awards Show in Monroe, North Carolina. Here is a little recap of this year's trip: 
Tuesday, November 11, we departed Birmingham around noon headed for Monroe, North Carolina. We stopped and had dinner half way there. Most of the band was with us, but the rest would be joining us on Wednesday, Thursday and even on Friday. We arrived safely around 10:30 pm. 
Wednesday, November 12, was a day of meetings and setup. Terry Webster had a board meeting to start the day off. Steel City Sound headed to lunch at 11:00 am and then to the venue for setup. Once unloaded and all setup, the band began rehearsal and sound check around 4:00 pm. We left for dinner around 6:30 pm and then called it a night. 
Thursday, November 13, was an early start. The band met for breakfast early and then departed for the venue to rehearse with our late arrivals. Steel City Sound opened the showcases with Jessica Webster (debuting as an AMG artist this year) and Tammy Webster. Once these two showcases were over, Tammy began working with our guest school choirs for their day of workshops and rehearsals for the AMG Heritage Awards Show. The choirs would be backing up Chubby Checker on the "Twist" and Billy Gilman on "One Voice". Later on that day, Steel City Sound performed their own showcase featuring "Forever" and "How Great Is Our God". Before dinner, all of the artists in the guild were put together in groups of 2-3 and asked to perform an a Capella song. Jessica was paired up with Anna Cibbarelli and Marlana VanHoose. They performed Royals from Lorde and knocked it out of the park.
Friday, November 14, is rehearsal day! Rehearsals began with all of the performing artists for the AMG Heritage Awards Show. Long day. 
Saturday, November 15, morning rehearsals and final touches to prepare for the awards show. The awards show began at 6:00 pm. We performed with so many different folks. Billy Gilman, Gloria Gaynor, Terry Gibbs, Christy Sutherland, Chubby Checker, Dee Dee Sharp, the AMG kids, just to name a few. The evening was long but well worth it. Terry Webster received the Instrumentalist of the Year award for 2014 on top of it all. It was once again a great time and we look forward to next year!